Argus Service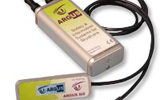 We are the only Argus Service Center in the Western Hemisphere.
We offer a full service for $140.00 plus return shipping This includes a functional check required by the manufacturer and new batteries
We are also able to change cutters and replace displays and printed circuit boards (PCBs), when necessary..
Return options
Please either include the following form
or, better yet, add the service to your secure shopping cart, and check out to provide your payment and shipping information. Remember to list the serial number(s) with your online order. Then, no form is required with your returned AAD.
Service Requirements
To consider an Argus airworthy, a 4 Year Check-Up must be successfully completed within the last 4 years and 3 calendar months
The batteries are to be replaced at each scheduled repack of the reserve parachute, after each activation, every 500 jumps, or when the Argus displays «Bat Low», which ever comes first.

After each battery change, set the date and time.

If water comes into contact with the filter, it must be removed and a new filter installed.